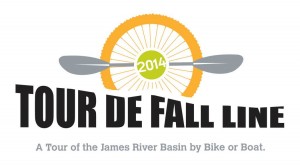 September 27th, 2014 8:00 AM to 6:00 PM starting and finishing on Mayo Island.
A Scenic Tour of the James River Basin by mountain bike or boat.  Explore the length of the James River's fall line.
Hosted by RVA MORE and JROC to raise money for the trail building cause.  All proceeds directly benefit your outdoor experience. Come out and explore with your fellow cycling and paddling enthusiasts.
Learn more here: http://rvamore.org/events/tour-de-fall-line/